My time in Japan is now over. While I do plan to visit, I am no longer an expatriate, no longer a resident of Tokyo. It's all so strange. I think it will sink in better once I'm settled in Seattle (still on the road!). I have also been horribly sick since the day I left Japan; what started as a bad chest cough manifested into bronchitis, and now I have a sinus infection on top of that. But before I catch you all up on my recent races and final days with Dan, I can't possibly leave out my last week in Japan, which was so incredibly meaningful to me.
Thursday (7 days til departure)
Thursday was my joint going-away party with my good friend Cole! We did a pub crawl through Harajuku, Omote-Sando and Shibuya. And we had a huge turn out! Some people stayed the entire time, and others just popped in for a drink at one or two places. It was a fantastic night and it was really great to see so many awesome friends.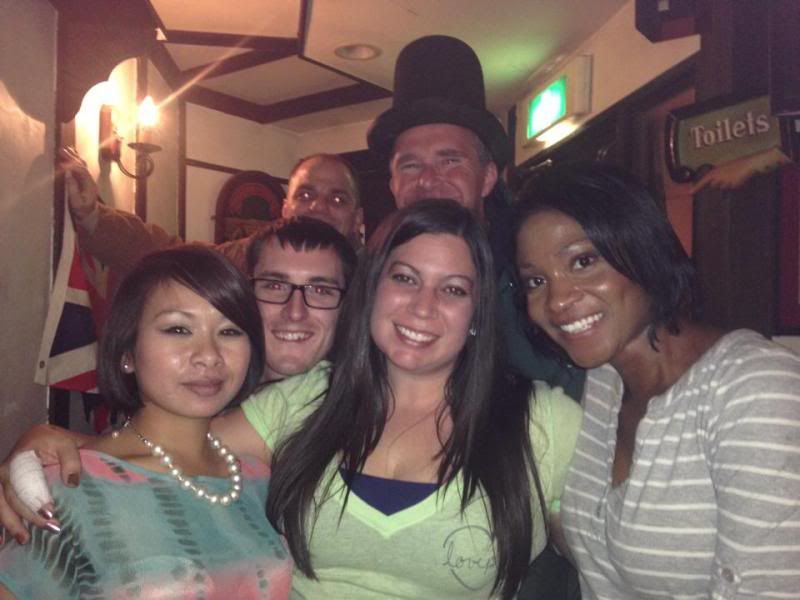 Friday (6 days til departure)
Friday was my last F3H3 hash. I was really sad about it. This will always be my home hash, the hash that named me, my first running friends in Japan. That Friday was a holiday so it was an afternoon hash. I bag watched because I still had stitches in my hand.
My friend Hiromi and I!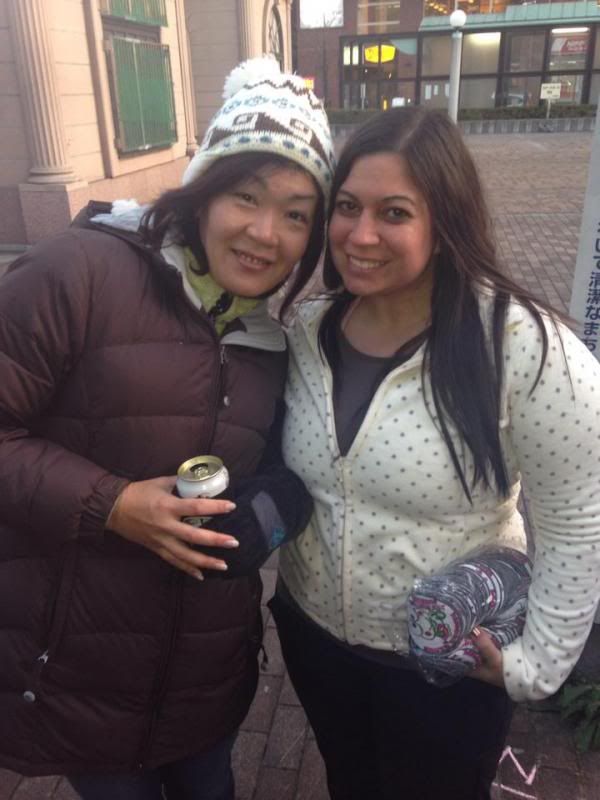 Saturday (5 days til departure)
Dan and I hared my last Samurai hash together! I was planning to run and lay trail with him, but since I cut my hand open I wasn't really in a position to get my hand all flour-y while laying trail. So I ran a beer stop about 2/3 through, and our friend Dave took my place in laying trail. We had a delicious after party at one of my favorite Korean BBQ restaurants, Maruki.
My friend Steven and I when he visited my beer stop!


Photo by Hiromi Suzuki
Sunday (4 days til departure)
I co-hared my last Sumo hash. Once again, I was going to have a more active role, but my darn hand got in the way. I couldn't even bake tasty treats! So I bag watched. Not always thrilling, but I'm happy to do it. Once runners returned, I got a lot of good byes, a lot of hugs, and even a lot of little gifts!
Great turnout!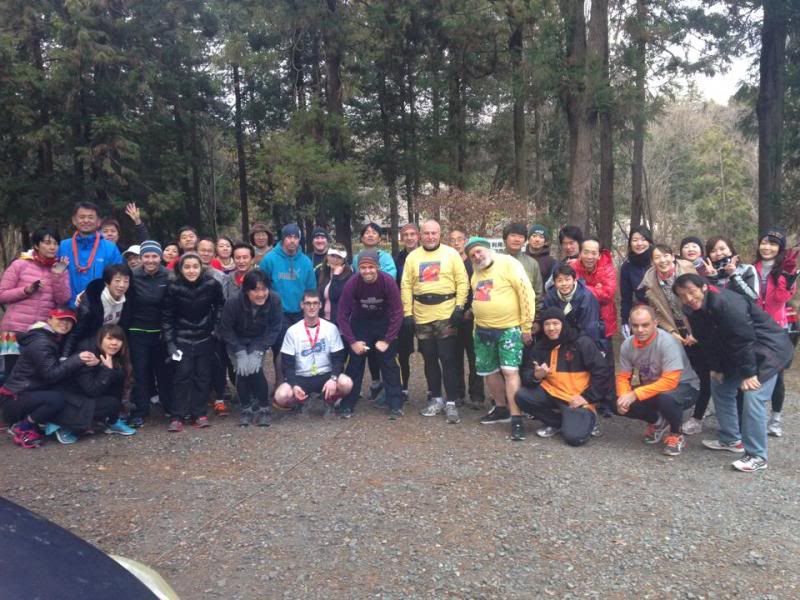 This was my last day spending time with friends. I knew it was going to be a crazy week and tried to keep Mon-Wed open for packing, appointments and errands. So naturally that Sunday was an emotional day and in many ways, felt like my last day in Japan. Sumo hash ended, and people either made their way to the after party at a Thai restaurant, or back to the train station. I was having trouble parting with some friends. Particularly hashers I've known since my first hash.
We were probably on our 5th goodbye at this point!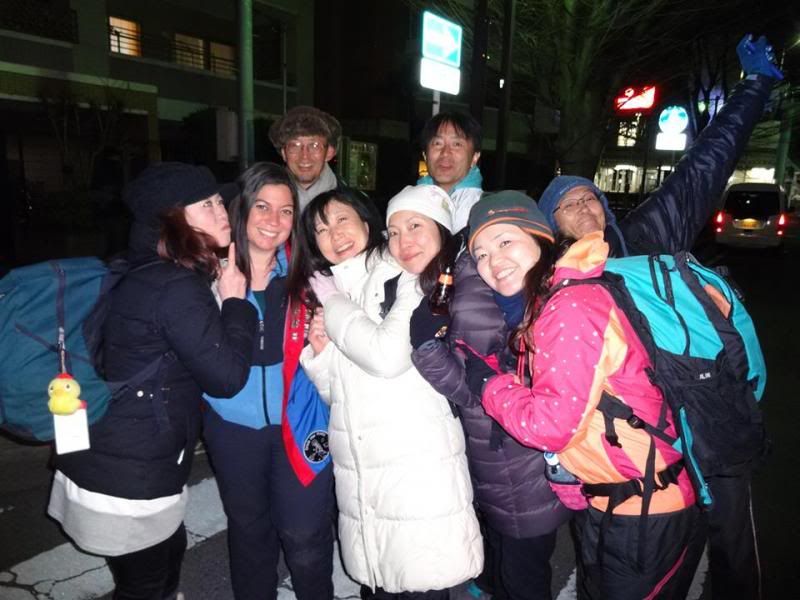 Most of them were going to the party, and I was heading home. We finally parted ways, and I felt really sad. As Dan and I walked to the train station with a couple other hashers, I heard the party-goers yell, "on-on!" across the street. We yelled back and waved. But it didn't stop there. We yelled and yelled. The voices grew fainter, so they started waving their flashlights and blowing their whistles from blocks away. Even as I stood on the platform waiting for my train, I still heard those whistles and saw their lights in the distance. I was really sad when our train came. I yelled, "on-on!" one more time, then got in. I'll never forget that night.
Dan went home, but my friend Luke was trying to rally some people together for an impromptu bite to eat and drink, and I decided to go with my friend Yukie. My friends Sarah and Rachel joined us and it was a really nice group. I only stayed about an hour or two, then headed home.
Monday (3 days til departure)
I was up right at 6:30am to get to the hospital by 8am, to get my stitches out! I was nervous, but ready to move on in the healing process. Since there was no translator last time Dan came along. There was some waiting, go to this office, go to this floor, but by 8:30 the doctor called us in. He took off my bandaging and set to work. He removed a suture then stopped. He said it wasn't ready and to come back in a week! Noooo!!!!! Dan told him I was going out of town Thursday. The doctor asked if I could find a doctor in the States, and we explained how that would be incredibly costly. So he told us to come back Thursday morning. This was frustrating, I hate having plans on travel days! The rest of the day was spent at home. Dan and I made more decisions on what I'm taking and leaving, laundry, etc.
Tuesday (2 days to departure)
Let the packing begin. I continued on with laundry efforts and tried to start making piles. Since my trip was Florida to Los Angeles to Las Vegas to Boise to Seattle, I was attempting to organize my packing so that I wouldn't even need to open one of my suitcases until I got to Vegas. But alas, I'm never that organized, and normally I end up juggling clothes and shoes into suitcases to appease the weight guidelines of United Airlines. I also am terrible at staying on task, so I kept starting other little projects. It would go something like, "Laundry will be done in 5 minutes, so I'll go take what's on the drying line and fold it/ put it away in my closet. Hey, I love this scarf! This totally needs to come. Whatever happened to that scarf I started making for Dan? I'll see if I can find it in the office, maybe bring that along for something to do on the plane. Man, this office is a mess. I'll just tidy up in here a bit… oh my gosh, are these my letters that friends wrote me when I first moved here? Oh things have changed! Aw, it's Kelsey and Jim's Christmas card from 2011!" And so on… needless to say, I'm glad I gave myself a couple days to pack 😉
Wednesday (1 day to departure)
Wednesday was more of what I did Tuesday. I started organizing my stuff to make the apartment more livable for Dan. I still had sewing stuff all over the coffee table from working on my nephew's stocking over a month ago, so I threw it all in a box. Repeat with all sorts of odds and ends I knew he wouldn't need. More packing. Dan and I had a nice dinner out together.
Thursday (go time!)
Once again we were up at 6ish to get to the hospital early. The doctor says stitches can come out! The last suture isn't completely ready though, and he applies some medical tape that needed to stay on for about a week. We paid our $2 bill and I was absolutely thrilled to be out of there! No more hospitals!
Dan had a hectic work week so as soon as we got home he started packing. I had everything done except toiletries. Once he was packed he ran to get Penny more food for the cat sitter and lunch for us. We ate and soon after were out the door!
Me about to board the Narita Express, a 45 minute ride to the airport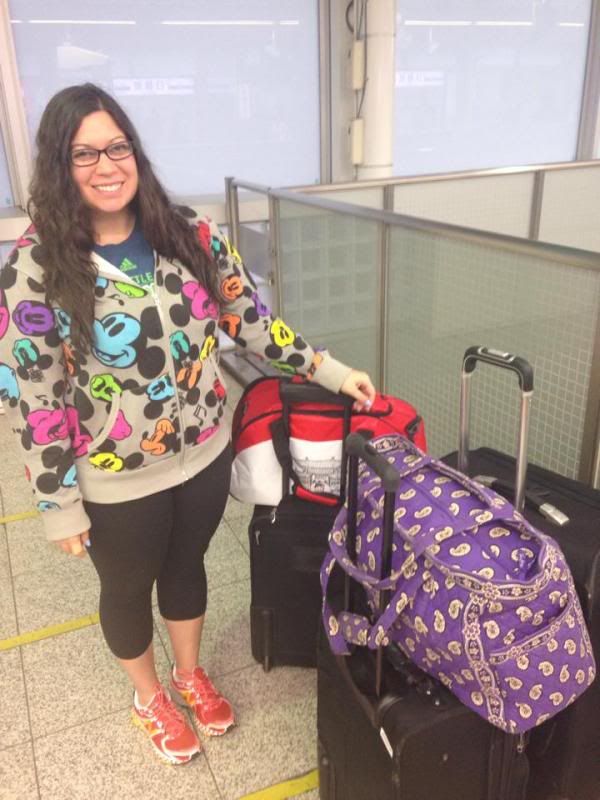 We cut it close to flight time, and it didn't help that the lady who checked us in told us the wrong gate. But eventually we were in our seats and on our way to Florida! Goodbye Japan and thank you for everything! When I do find time I might take a moment to actually explain what I got out of my time in Japan and how I feel it benefitted me. For now, it's back to bed to rest and get this virus out of me!