The last weekend of February I headed to Disney World for the Princess Half Marathon. I wouldn't just be running the half marathon though, I signed up to do the Glass Slipper Challenge- a 10k Saturday and a half marathon the next day. And if I was running 2 races, why not throw in the 5k Friday morning?
I actually went from not looking forward to this weekend at all to having one of the best race weekends to date. I was originally going to go with Dan's stepmom Ann, but she had some conflicts get in the way. Then my friend who was really the only person I knew well, and my ride from the airport, suddenly wasn't available. Or wasn't sure she would be. It was confusing and as someone who likes to plan in advance I was a little stressed by it all. In the end I decided I'd just do everything on my own, and hang out by the pool in my down time. Then, the night before I left I reached out to a girl I'd made friends with during marathon weekend, and saw again during Tinkerbell half weekend, and she sent me her full itinerary of reservations and theme park plans and said I was welcome to add myself to whatever I wanted. I was still feeling meh, but decided to put myself out there and get to know these acquaintances better.
I flew out Thursday from Seattle and arrived in Orlando around 5:30pm. The expo closed at 8pm, but I was worried with luggage, shuttle service and checking in it'd be a tight squeeze. I needed my bib for the 5k early the next morning!
So funny short story- I met a nice gal in the bathroom at the Houston airport who saw my RunDisney shoes and asked me what time the expo closed. She was a flight attendant and trying to get on standby for the next flight. Fast forward- I land in Orlando and get on my shuttle, who sits next to me? The same girl! So that was fun. I was disappointed when the bus driver said my hotel was the 4th stop, but my new friend reminded me that all hotels have expo shuttles, so I thanked her and got off at the first stop, the Coronado hotel, and made a beeline for the expo shuttle.
I got to the expo with about 45 minutes to spare. On the one hand it was a little lonely being there by myself, since I normally do Run Disney races with Dan. It's fun when we're excited about the races together. But I did enjoy being on my own so I could browse the expo booths at my own pace! I got my shirts and bibs, meandered around a bit, and then realized I was super tired and headed out to catch my shuttle to the hotel.
Speaking of my hotel, it was adorable! I stayed at All Star Movies and I thought for a budget resort it was nice and had everything I needed.


The cute pool, which I ended up being too busy to use!


I was in the Toy Story building. How cute is this?!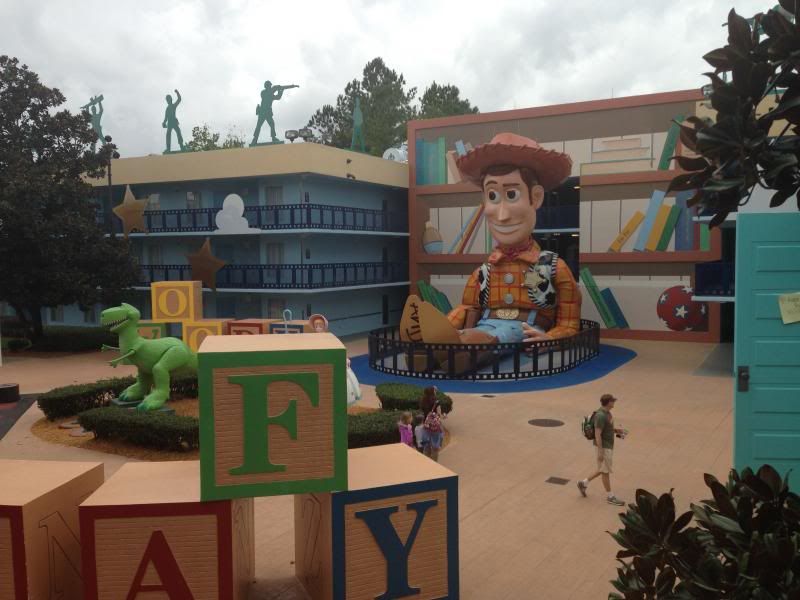 I checked in, got to my room, laid out my clothes for the 5k and went to bed pretty much right away.
Shirts and bibs for the weekend!


Some goodies I purchased. A tumbler, a mug, a pink bondiband and white arm sleeves for Sunday's costume.

A few hours later, I got up and got ready for the 5k! I wasn't really worried or anxious about this at all. I was more concerned over the fact that I wasn't going to let myself nap after. This was Day 1 of 3 days of 3am wake ups. I needed to be tired at night so I could get a good night's sleep!
I decided to rep my Goofy Challenge shirt and some sparkle 🙂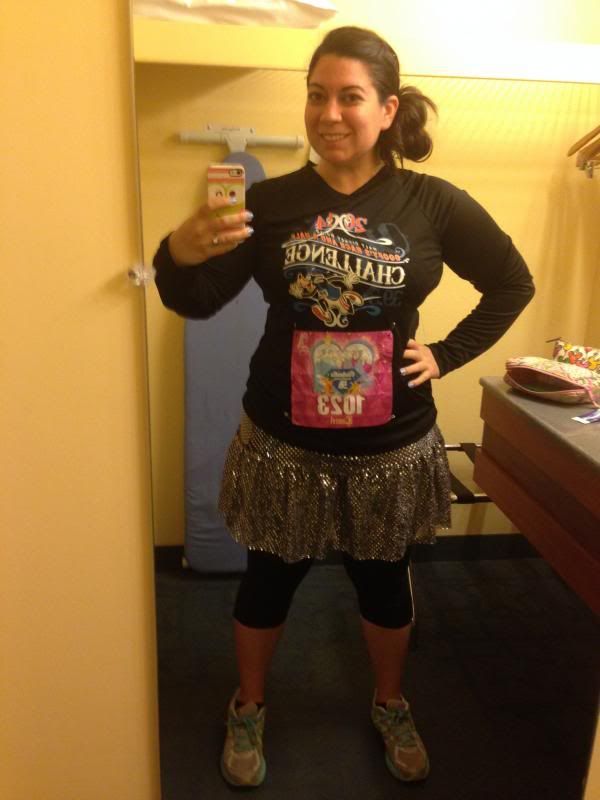 I headed out and got on the shuttle to EPCOT. That went pretty quick, and then I milled about finding runner friends and chatting. What was exciting for me was starting in the A corral. I've never been in corral A, and probably never will be again! Not sure how that happened, but it was so nice to have the race start and not wait a half hour just to get to the start!

I got to my corral with about 20 minutes to spare, and just sat around keeping busy on my phone. I saw a couple people here and there I recognized from online groups or that I'd met once at other races, but didn't talk to anyone.
Things were about to get rolling, so I got up and started wiggling forward a bit in my corral. I like to be in the middle of the corral and on the far right. Just then I saw a friend of mine whom I'd been talking to online for at least a year. Jindy, who blogs @ Flowers Croon had just walked past me while chatting with a friend. I wasn't lonely exactly but I didn't know if I felt like putting myself out there. I eventually decided, "why not?" and jogged to catch up to them. This moment would be the start to my epic race weekend with running friends.
"Jindy!" I called, and caught her by surprise, "I didn't want to interrupt, I just wanted to say hi in person…" and before I could finish she said my name and we hugged. She was as excited to "meet" me as I was to see her! She introduced me to her friend Marci who was also really friendly. We decided to do the 5k together. I'm so glad I introduced myself!
Ready to kick off the 5k with new friends!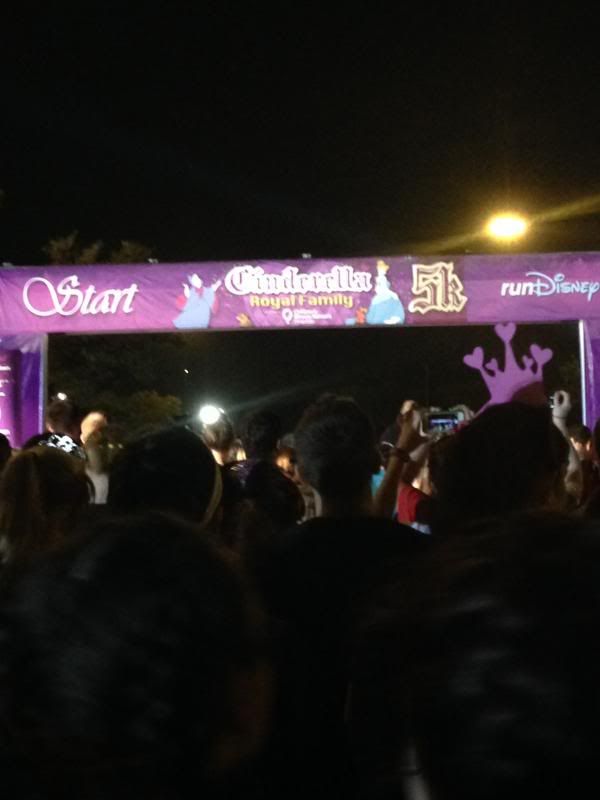 The race started and we were off! It was a little crowded so we just kinda jog-walked and chatted. It was so strange, to be running with these women I'd only just met and have our mouths running a mile a minute. We were the definition of fast friends! We went about chatting and stopped for character photos.
Me, Jindy, Atta and Marci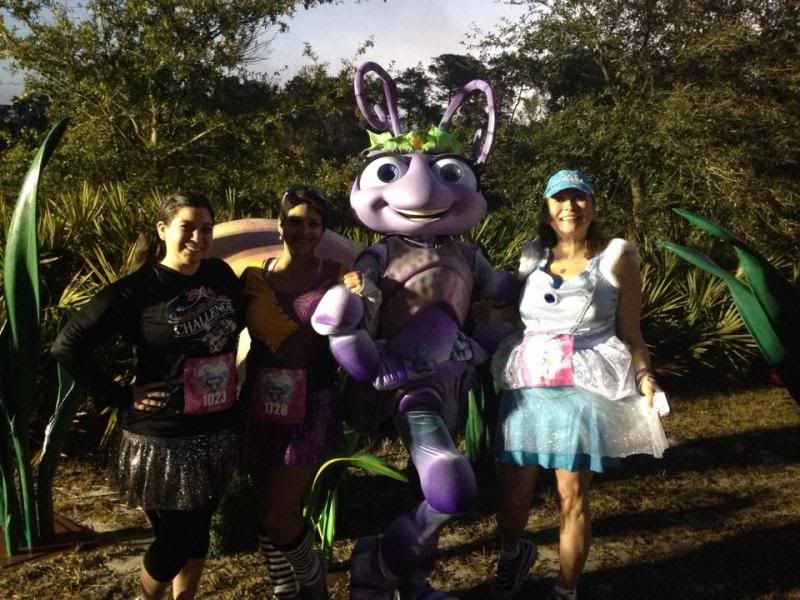 Marci, Jindy and I passing through EPCOT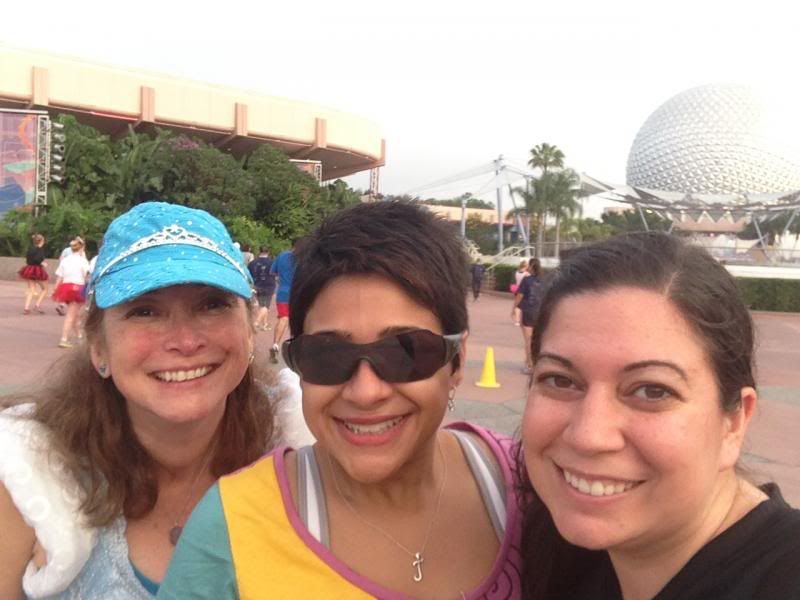 My favorite part about this race was running through the World Showcase. Until this 5k I'd only done it during the last mile of the marathon, and I definitely wasn't enjoying myself and taking in my surroundings then 😉 Being in Florida AND being up early for the races also made it easier to talk to Dan in Japan. We Face Timed during F3H3 and I got to see all my running friends in Japan- as I was running the 5k! So that was fun.
Almost done!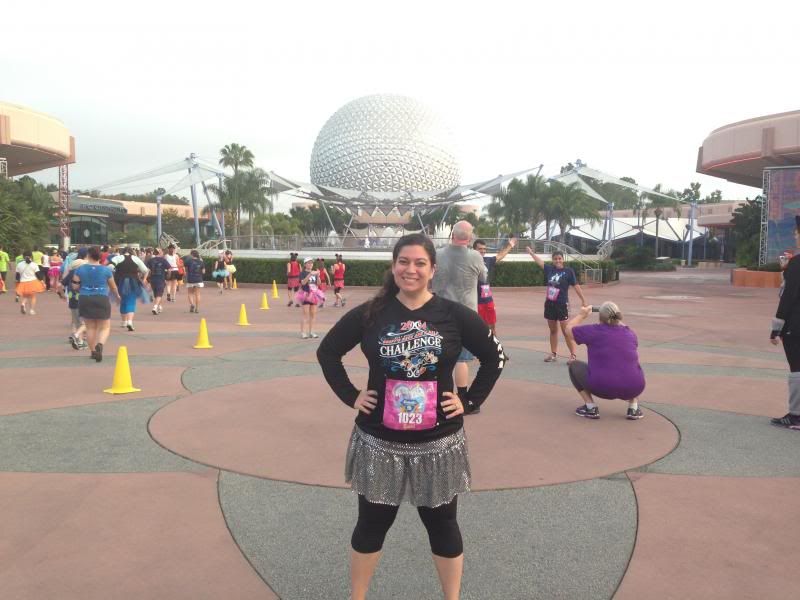 The time flew by as we chatted about Disney races, running, and Disney. Jindy was there because she won a contest! So it was neat hearing about that. Before we knew it we crossed the finish!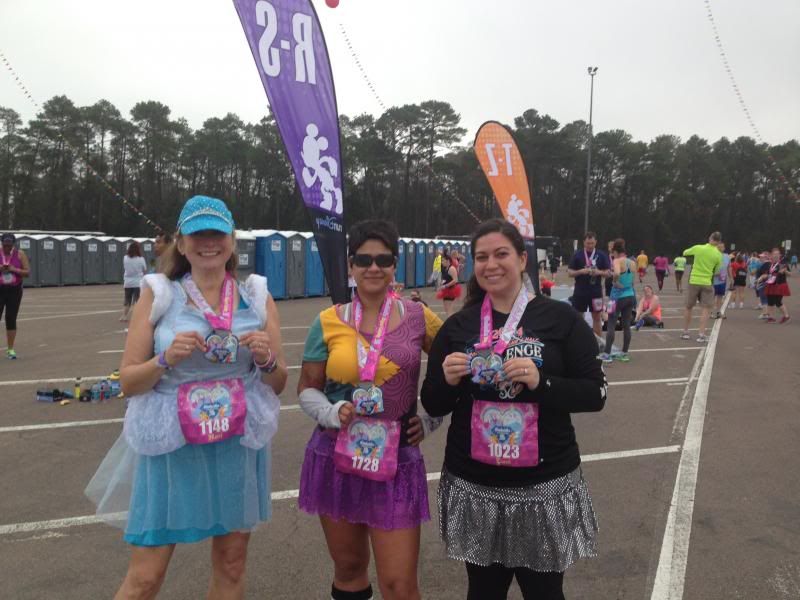 Soon after we split up to go find rides with friends, catch shuttles, etc.
On my way back to All Star Movies!


I grabbed breakfast at the food court and went back to my room. I hung out for a bit. I REALLY wanted to go back to bed. According to my friends Dee and Rachel, whom I'd spent time with briefly at Tink half and sent me their itineraries, there was a runner's meetup at the Polynesian resort followed by their friend Amy's birthday dinner. I was on my high of having fun with Jindy and Marci and hoped this went as well. At least I'd met Dee and Rachel and knew they were fun. I didn't want to invite myself to all their plans, so I told them I'd meet them at the meetup but do my own dinner.
The Runner's Love meetup was a meetup hosted by Jen and Kristy, two girls who became fast friends through running. Through their magic they got tons of awesome companies to sponsor the event. Everyone communicates on Twitter via the hashtag #runnerslove. Though I was new, AND hadn't registered in advance everyone was super nice and got me a name tag. I sat down and started chatting a little with people from my online running group TeamRunDisney. It was a nice day out, and we were all sitting in chairs on the beach. After not too long, Dee and Rachel showed up!
I unfortunately don't have any photos from the meetup, but everyone won a prize. Mine was a bracelet that said "fear not". Some people won shirts, shoes, water bottles, Nuun, Gu packets, socks. It was really impressive. I had told Jindy and Marci about the event, and Marci was there, but Jindy was really late. I was so glad she made it! Eventually we started to get rained on and the meetup was over. Everyone started running in different directions to get under cover, and Rachel, Dee and I found ourselves at Captain Cooks. Where they serve Dole Whips. What a coincidence! 😉 And after about 20 minutes, Jindy and Marci found us, and they had cute tiki cocktails. We all just sat and chatted. Everyone loved everyone. Everyone thought one another was funny. I'm the person who's always hesitant to mix groups of friends. And here we all were just kinda blending together.
My giant Dole Whip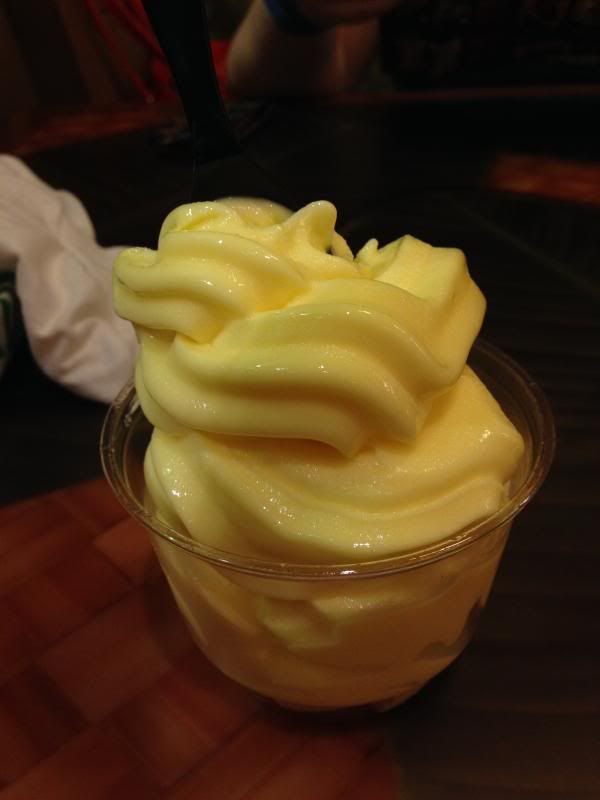 We chatted all the way til Dee and Rachel's dinner reservation. Jindy and Marci left and in the end I tagged along to dinner. I felt really weird about going to someone's birthday dinner though. We went upstairs to the Kona Cafe and I met Michael and the birthday girl Amy. They were just as nice as Dee and Rachel and welcomed me! As soon as we sat down they both asked to add me on Facebook to check in with me at the restaurant, and I knew I was in good company 😉
Dinner was a blast and included movie quotes, sing alongs and other general silliness. I had the caterpillar sushi which was really good.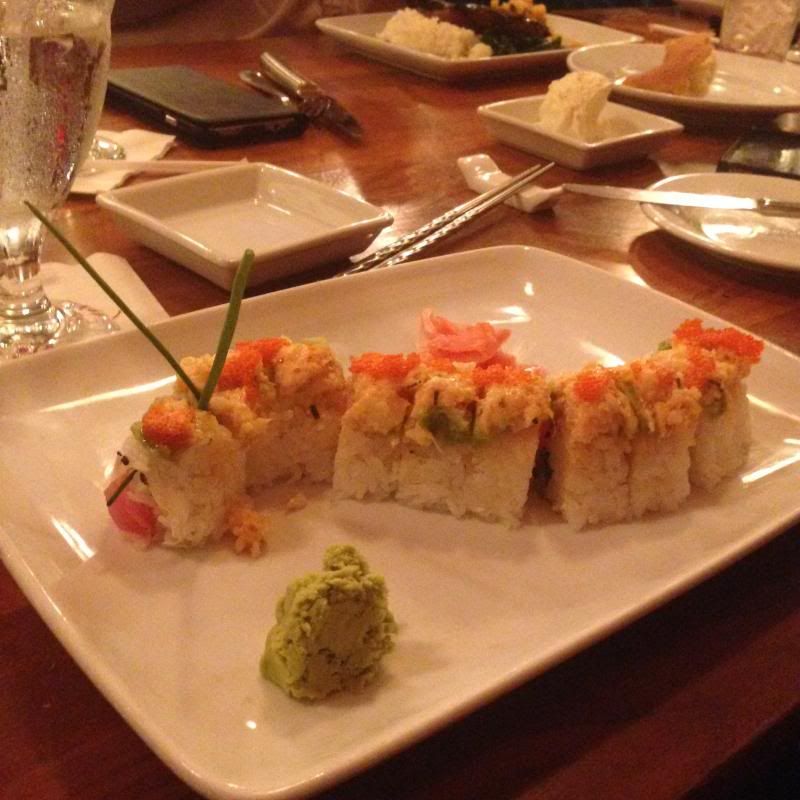 We were all running the 10k the next day, and decided to head back. Michael was a local, Amy was staying at I think Boardwalk? and Dee and Rachel were at Caribbean Beach. We all said bye to Michael and hopped on the monorail, then parted ways at Magic Kingdom to catch our respective buses.
But we couldn't leave without a group photo! L to R Michael, Amy, Dee, Rachel and me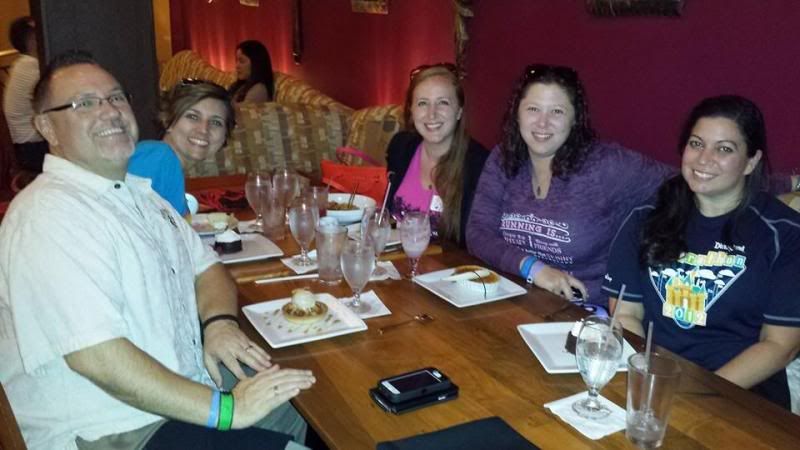 I got back to my room, got everything ready for the 10k the next morning and hopped into bed. I had no intention of being out and about all day, but it was already after 10! My alarm was going off in less than 5 hours, but it was such a fun day I didn't care. We were only just beginning anyway- bring on the glass slipper challenge!