I have awesome news today!
The awesome duo of Adam and Devon asked me to be on their podcast, Lifestyle Accountability, and today the podcast was released!
And you can listen to it here!
I did the interview about a month ago, and it's crazy how things have changed even just in the short amount of time. I'm over Grape Nuts and fruit for breakfast and have been on a big oatmeal kick. I also really enjoy making marinades for chicken and fish these days and that would have been a lot more interesting to talk about than salmon fillets 😉
Some of my long time readers probably know a lot about what I discuss on the podcast but for anyone new, it's a really good look at how and why I started running. Enjoy! And if anyone has found my little blog after hearing the podcast, welcome!
I realized I never talked much about the Oso mudslide, which was a pretty big deal around here. On March 22nd, just a few miles east of Kelsey's home town of Arlington, a massive mudslide occurred which took out an entire neighborhood and destroyed a highway, killing at least 35 people. Several are still missing.
It's incredibly tragic. Kelsey has a younger sister still in high school, and she said she normally waits for the bus with 7-9 other kids, and a few days after the mud slide it was her and 2 others. The others had passed, were missing, or dealing with the loss of their home and moving into an evacuation shelter.
A couple days later Kelsey had the idea to donate some goods to the shelters. We went to Costco to just get some toilet paper and paper towels, but we couldn't help ourselves! We got a couple cases of bottled water. Sandwich supplies. Easy Mac. After school snacks for kids. Soap. We left Costco $170 poorer but we were pretty excited to deliver everything!
Loading her car for a trip to Arlington!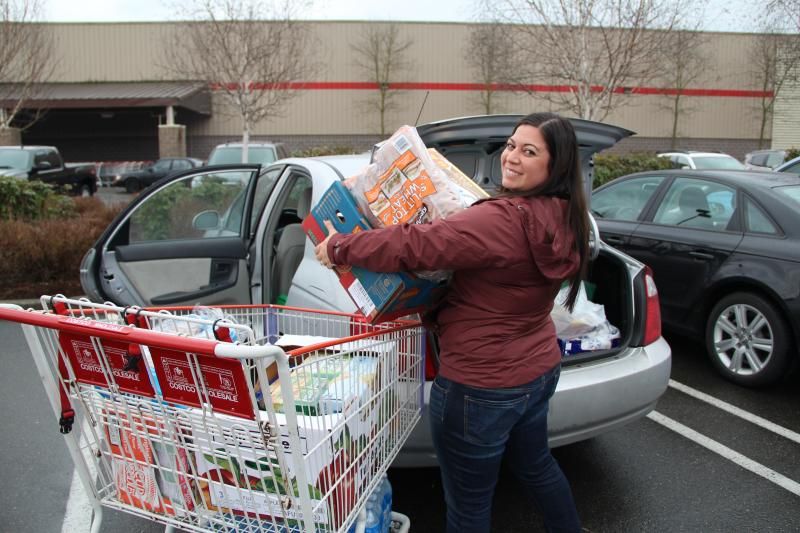 We live about 45 minutes south of Arlington, and I'd never been, so I was excited to see where Kelsey was from. Our first stop was to pick up her sister Hannah from school for a little lunch date. We had no clue where she was, as we creepily walked through the rows and rows and high schoolers having lunch. Eventually we looked suspicious enough to attract a teacher's attention, and he paged her for us. Nice and embarrassing!
Had to get a pick of Kelsey and her alma mater!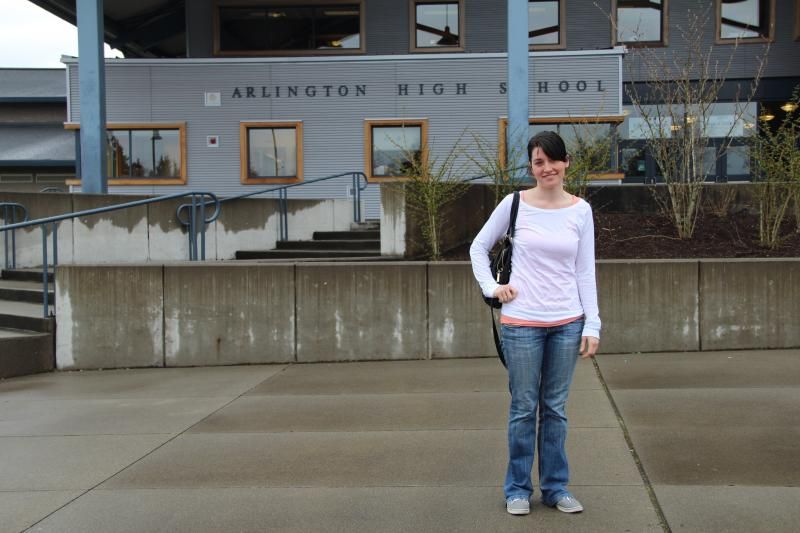 We made our way to the Red Cross donation site at the middle school where we learned they were only taking monetary donations. Bummer! We then drove to the other side of town where they were taking anything they could get.
Kelsey and Hannah striking a pose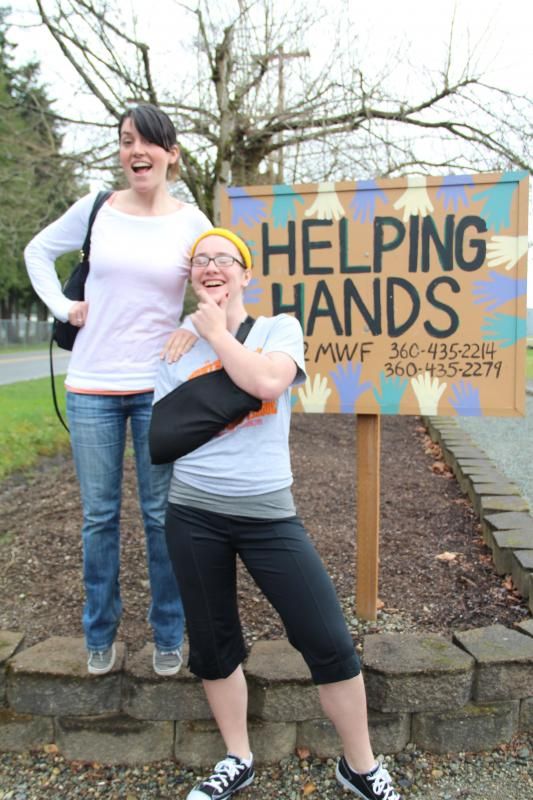 With not much time left in Hannah's lunch period (and Kelsey had to get to work), we grabbed delicious teriyaki for lunch and returned Hannah to school. Arlington's a cute town and I'd love to go longer sometime to walk around and enjoy it under better circumstances!