I figured today I would give little updates on topics I've touched on recently. I'm super excited to do a post about this past weekend, my nephew's second birthday, but figured that deserved a post of its own!
Food
My diet's been going really well for the most part, with the exception of this past weekend where I went to Oregon and had some Easter indulgence. I'm keeping portions tame and really questioning if I want to calorie splurge on certain things.
When it comes to dieting, marinades have been my bff. I'll find a bunch on Pinterest, do a grocery trip, and then I have fun options for my chicken for the next few weeks (chicken breasts I buy in bulk at Costco). Even better, the more frequently I marinade, the better a stash of staple ingredients I'm building in my cabinets at home.
Last weekend I made shrimp tacos, and soaked the shrimp in a cilantro lime garlic marinade.


I made a small portion of Guacamazing, and used that with store-bought salsa and cheese for filler. It was absolutely delicious!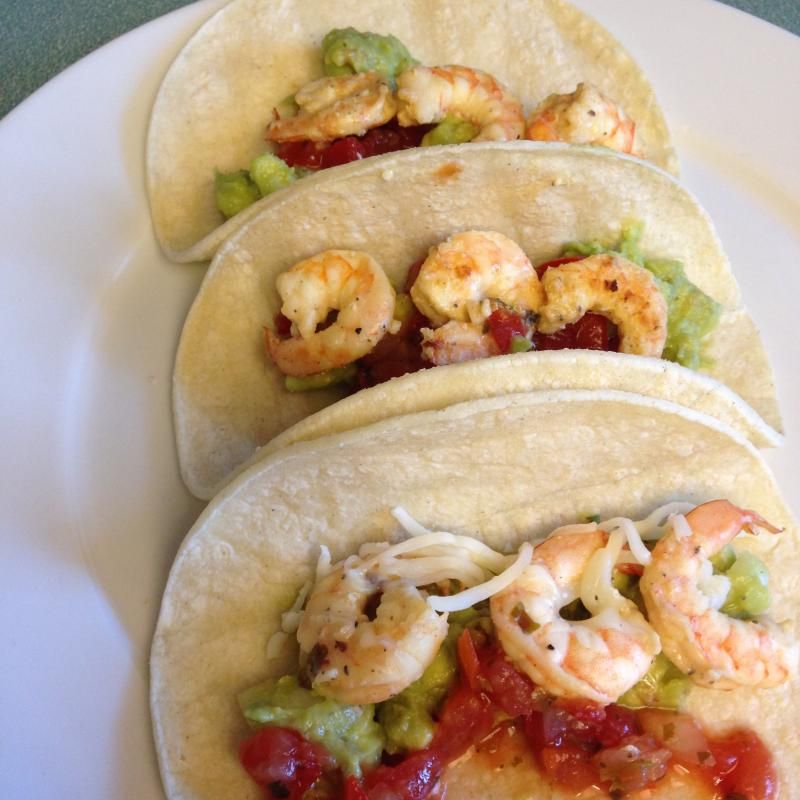 My biggest indulgence last week was Seattle Restaurant Week. Restaurant Week is when restaurants prepare a prix fixe menu that's a pretty good deal. We went to The Commons in Woodinville where I had a blue cheese burger, bruschetta and espresso salted caramels. It was awesome and definitely worth the calories.

Kelsey also has a hobby of making cookies and freezing the dough. It's pretty smart- when we're ready to sit down and watch a show, she pulls out 2 dough balls for each of us, and we have fresh baked cookies with yummy melty chocolate chips. We also can't overindulge without firing up the oven again and waiting for them to bake again, so that's nice. Since she's always taking the time to make cookies I decided to donate to our cookie dough stock house, and made banana walnut chocolate chunk cookies. They're good, guys. Really good!


As for a weight update, I'm moving painfully slowly down the scale. I'm also trying to put on a lot of muscle, so that could be why. I'm due to take measurements in about a week and a half, so maybe that will give me a better idea of my progress.
Oh, and one more thing that's made cooking fun- I've started gardening! On an incredibly small scale. I started with an herb garden and have since added some fruits and veggies. In the herb garden I only have cilantro, rosemary and chives, but I've used some of each so far and love it!

Shoes and Running
I'm really pleased to say both are going well. I didn't even have to break in my new shoes, and found that lacing them tighter keeps my low cut socks in place. So, the shoes are doing awesome and I'm happy I opted not to return them. Here's to many miles in my new Brooks!
As for running, speed work is going really well. I power through 1 or 2 mile runs in my slopey neighborhood, then take it easy at the flat trail for a little distance work. I'm starting from the ground-up, so last week's distance run was only 5k, and tomorrow's will be 4 miles. I just figured I have the time, so why not work up slowly? In addition I'm still weight training every other day (and moving up in weights!) and occasionally doing my Turbo Fire dvds. Not as often as I should, but enough to cross train decently.
The 5k I ran last week rocked my socks. My 5k pr at races is currently 31:11, and when I generally run an easy 5k on my own it's about 39-42 min. I did this one 35:21, giving me an 11:23 average. Check out these negative splits!


Kind of hard to read, but my splits were 12:25, 11:36, 10:16.
To be fair, I ran the first mile easy, and then saw my time and felt so good I picked up the pace a bit. So there was effort, but I wasn't dying like I am during speed work. Woop woop! I also had a fabulous talk this past weekend over beers with my beloved college bestie Thomas. He may prove to be useful in my running training, as whenever I told him what I was hoping/ attempting to do with my running, he always had advice or an answer. So I might chat w him more about running. Anyway if you enjoy reading my blog as a runner, check out his blog! T is funny and awesome and I'm so glad we became friends in college EIGHT years ago. Yikes, the time flies. T and I have a race coming up later this year, hopefully next time I blog I can go into detail about it!
Work
As I'm sure you've gathered by now, I work part time as a nanny in downtown Seattle. I love my job. I say that with 100% sincerity. I don't know how I got so lucky to fall into this gig with such a wonderful family. The problem is- I can't be a nanny forever, and E will be 16 and driving on her own next year, thus not needing me 🙁
I've been job hunting, and when I first moved here I hit it hard, blanketing Seattle w my resume. By late February I got a bite from a sweet marketing and advertising firm. I interviewed for a position, and they thought I'd be a better fit for a different position. So I interviewed for that. FOUR times. It's been tough. Especially since before my first in-person interview I had company in town- Dan's cousin Becky came to Seattle; her marketing firm was giving a pitch for a job campaign. I got her and her designer from the airport, we had a late dinner, slept for a couple hours, I took them to their pitch, got breakfast, and then I drove them to the airport. We had so much fun though! Becky helped me get ready for my interview and everything.
Here we are saying bye at the airport, before I headed to my interview (with the blouse tucked in and the blazer buttoned, of course 😉 ). I hope she visits again soon, she's so fun!

It's been a few weeks and no word on the position. I finally got the nerve last week to send them an email and ask if I was still in consideration, and they said yes. So I guess I keep on waiting!
And finally, I hope everyone had a great Easter! My mom sent me a See's Candy gift card, where I bought a haul of chocolate to share with my nieces and roomies.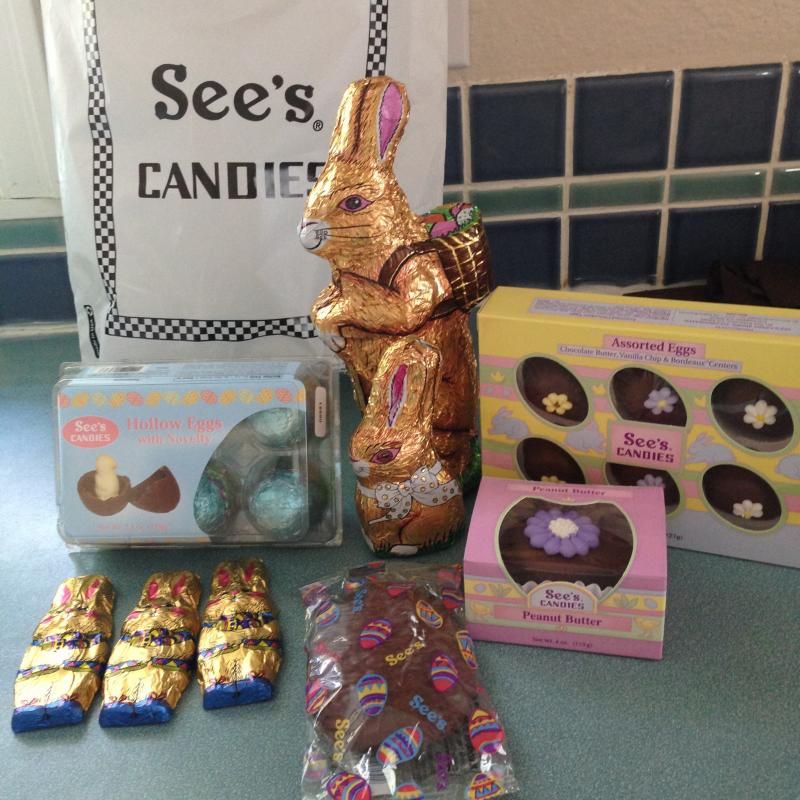 That's it for now. I seriously can't wait to talk about my nephew's second birthday. In the meantime, here's Nate and I the day before his party!