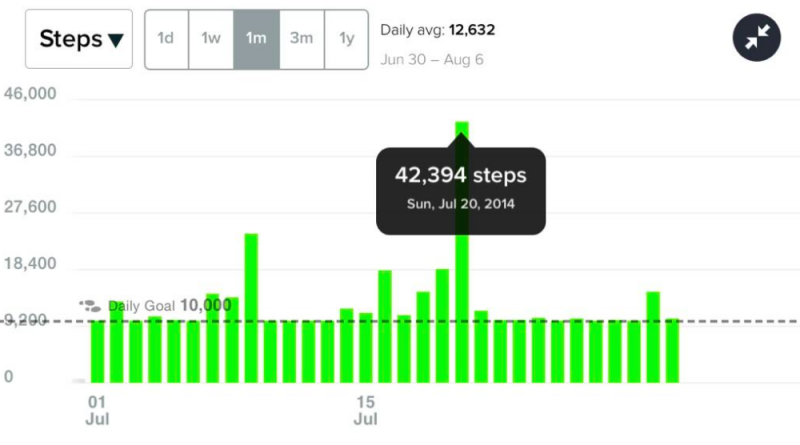 So for the month of July, I set a goal for myself to walk 10,000 steps. I didn't think it'd be as hard as it was! If anything, it has shown me what a sedentary lifestyle I live.
Some days I reached 10k steps with no problem. Usually on long run days. Other days, I would realize it was 8 or 9pm and that I'd only walked about 2,000-3,000 steps. Those were frustrating. I'd throw on shoes and walk around my neighborhood, or laps around my kitchen/ living room area.
I know my goal annoyed some. I was constantly pacing and trying to get extra steps in. One weekend, I went down to Portland to visit family, and as I was driving home I saw that I was only at 5,000 steps and that I wouldn't be home til after midnight. I pulled off the highway and walked around a Walmart for 5,000 steps. I was dedicated!
Needing steps was great at work because if I was working with kids I was guaranteed to get my steps in, and if I was at the front desk I'd volunteer to do odd jobs around the gym to get more steps. July 31st came and I'd reached my goal. It felt good. I didn't realize how sedentary I was even on short run days. I could go out and run 3, 4, 5 miles and not hit, or barely hit my goal for the day. Now it's August and I don't miss the stress of cramming steps in before bed (there indeed was a night I turned off my lights and got in bed, only to realized I had about 1,100 more steps to go), but the goal was fun. I'll have to think of a new goal soon. In the meantime, I challenge people to walk a number of steps and see how sedentary they are!
By the way- that day I had nearly 43,000 steps was the day I ran the Rock n Roll Chicago half marathon and went sight seeing after. So many steps!