A month with no entries! Hopefully that won't happen again! I'm off the hook for 2 of those weeks, I was back in Ishinomaki for tsunami relief. The other two weeks… I guess I've just been enjoying summer!
I'll probably go into less detail about my trip than last time, as I did the same thing most days this time, as opposed to having a different assignment and work site every day back in June. Everyone neat and pretty? On with the show!
To begin, I packed much smarter this time. Dan got me this fantastic bag from Oshman's- a duffel bag that's worn like a backpack! I hate backpacking bags because they're not that easily accessible, so I was very pleased with this pack. The duffel, sleeping bag, bed roll, and a small backpack is all I took this time.

Dan and I grabbed a quick meal at Shinjuku Station, then met with my friends Aska and Koba for a drink before getting on the bus. We hadn't seen Koba in about a month, so it was good to catch up with him. He then walked us to the bus stop with Dan, and we met our group for the next week! We'd be a team of 6- Aska and I, Joji from last time, and Niki, Lauren and Bryan from Nagoya. We were all there, except Joji… talk about a bad night for your train to stall! But he made it in the nick of time.
We all basically stand around for 30-45 minutes before finally loading our gear and getting on the bus. It was a HOT night.

With everyone present and our luggage loaded up, I kissed Dan goodbye and our team boarded the bus. This bus ride was much nicer than the bus in June. I had a row to myself, so I could stretch out for napping and whatnot. Just the same though, not a lot of sleeping got accomplished on the bus. The ride is about 6 hours north, and then we take hour long breaks at rest stops.
Ultimately we made it to Ishinomaki Senshu University. Last time we had orientation at the University (aka Senshu), and then we spent the week staying at Kasuka Fashion, an old textile warehouse. This time we'd be sleeping in tents on the lawn of Senshu. We dragged ourselves off the bus and sat through orientation.

After orientation we were sent to the tent city (aka Intensity) to move in for the week. I'd share a tent with the girls of my team, Aska, Niki and Lauren. It was cramped but we kept to our areas, so we did ok.

Just like last time, there was no time to waste. We unpacked a bit, changed into work clothes, got our gear ready and were out the door! We were handed lunch and put on a bus.
Little did I know, lunch would be the same every day for the next 2 weeks. 2 pieces of onigiri (rice ball wrapped in seaweed stuffed with pickled plum or fish flakes) and a small piece of fried chicken.

Our bus ride to work every day was an hour. Since i didn't sleep at all the night before, I slept hard on the bus ride to work. We arrived and the fishermen were still on their lunch break. We had about 20 minutes of down time, so I took some pictures and chatted with people.
The most startling image near the dock that day- a boat was beached in the parking area and has been sitting there since March 11th.

Aska and I ready to work!

We were told to step right up, it was time to work!

We had baskets and baskets of thousands of oysters, and our job was to insert the oysters into twisted ropes. The ropes would then be tightened, and it would be placed back into the sea again for breeding purposes.

The rope is pulled up in front of your feet. You grab it, stick oysters in the loops of the twisted rope, set it down when you fill it up, they coil it up, and you start again with another rope. Needless to say, it was a bit repetitive. We did this for about 3 hours, having a short work day since we started late.
While working, Aska found a crab!

The finished product- coiled oyster-filled ropes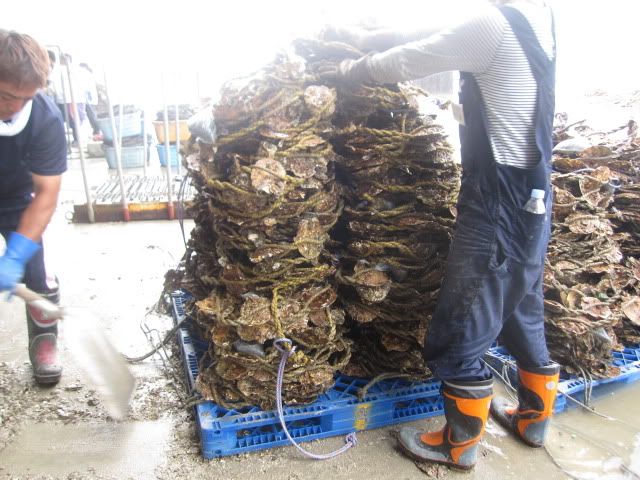 Myself with team mates Niki and Lauren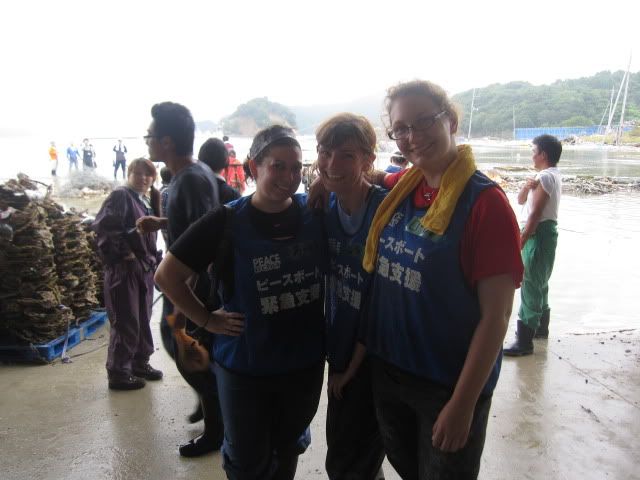 Walking back to the bus at the end of the day, I saw different yet familiar Ishinomaki sites.
A pile of recovered anchors

Junk yard

When we got back on the bus, we were shown a documentary on the way home. It was about the tsunami, and it had a lot of the fisherman we had just met and helped all day. It was all about how earlier this year he had a wife and 4 children, and then March 11th he lost his wife and youngest son. Working with him, I never would have guessed. He worked so hard and had a good attitude. I couldn't believe he'd experienced such tragedy.
We returned to camp and cleaned up. I dressed a lot smarter this time, and wore dri-fit clothes under my gear, so I wasn't dripping with sweat this time. Many of us congregated around a giant supply truck. At the time there was bad flooding in Fukushima, and Peace Boat sent supplies their way. What started with 2 people running back and forth to fill the truck turned into a nice little assembly line.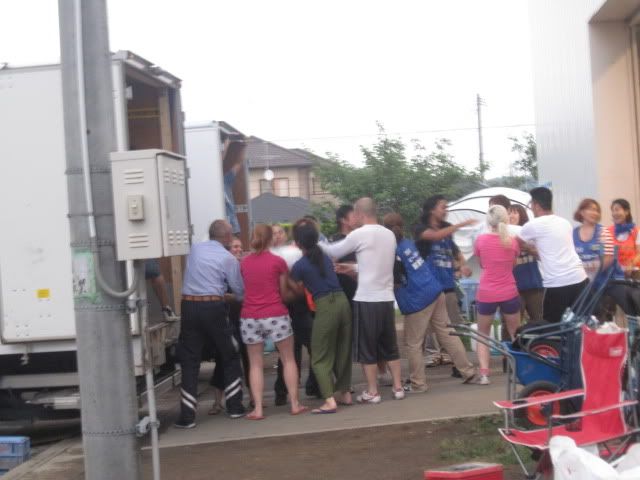 We sat down in the parking lot to dinner for the night- chicken and rice. I was going to be eating a lot of rice these next two weeks.
That night I fell asleep immediately and slept really well- until 4am. We had a decent size earthquake, and I guess we really felt it, sleeping on the ground in the tents and all. We went back to sleep though, and was up around 6am the next morning, Sunday.
Sunday was a fun day! In typical Peace Boat fashion, we began our morning with Radio Taiso exercises, and then they added something new- singing the Anpanman song. Anpanman is a very popular Japanese cartoon character.
Learning the words to Anpanman

We got our job assignment for the day- waterproof spraying 10,000 paper bowls that would serve as lantern bases to the lanterns floating into the bay that night for the Ishinomaki Revival Festival (no to be confused with Obon, which was the following week).
We boarded a bus and headed downtown!

Our team worked with about 3-4 other teams but needless to say, 10,000 lantern bases is a lot.
Aska, Lauren and Niki spraying bowls

The best team ever, Team 10!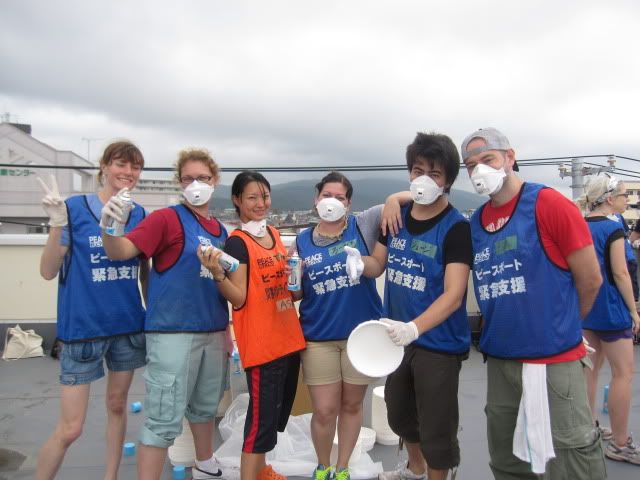 We stakced them in an air conditioned room to dry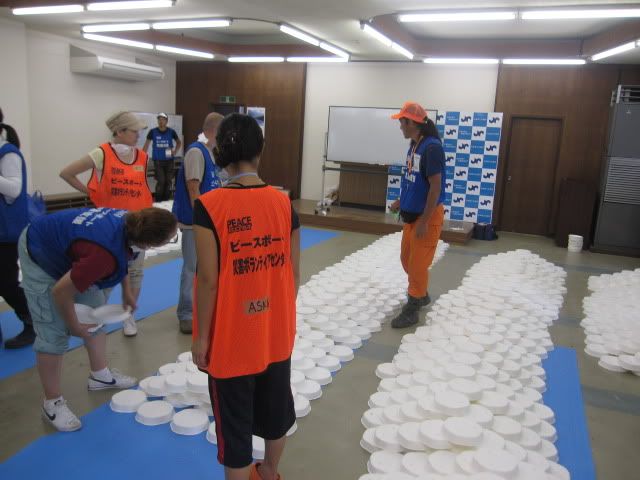 We only worked for a couple hours that day, then we were free to explore town for a bit before the lantern festival that night.
Jessica and I outside the children's play area for the evening. I was pleased to learn she was from Seattle too!

Aska and I, along with others, decided to go out to the peninsula that was hit hard and explore that area.
Battered building on our way

One of the former house foundations. There used to be about 50 houses on the island, all completely wiped out.

Church

Lady Liberty standing tough. She was hit with houses, buildings, cars and boats, and, worse for wear, she's still standing.

Many stones knocked over in the graveyard. This one had an ET sitting atop <3

The town at the waterfront is filled with rubble, but when you take a closer look, it's someone's once-treasured possessions

There was a bus back to camp at 2, so I got on and took a nap for about 45 minutes in the tent. I then changed and got back on the bus with my team mates to go back downtown. With no work assignments, we had the whole evening to just enjoy the festival!
We got downtown and wandered the streets. One of the first things that caught our eye was a sink dispensing orange liquid! I got in line and tasted some of the best orange juice I've ever had.
Anand getting some juice

Yakitori was a big hit. Jessica, Naomi and Aska with theirs. I later had a bite and regretted not getting one

There was a funny game where you could put a blindfold on, get spun around 10 times, walk to a watermelon and hit it with a cardboard tube. The winner would then get a piece of watermelon!
Sylvie giving it a go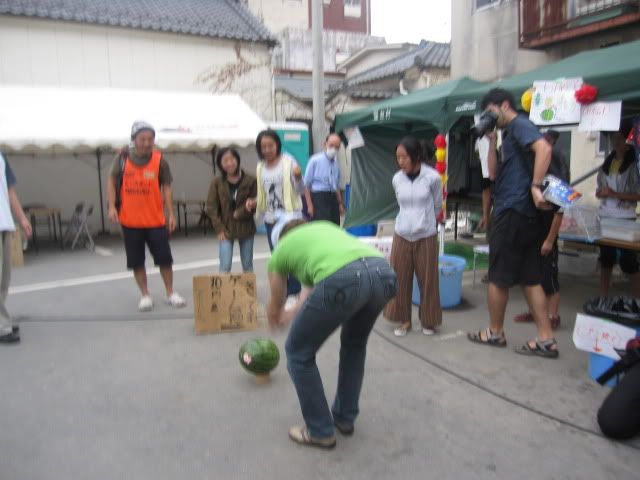 She won!

There were plenty of booths offering delicious food and fun games. Joji taking a shot at a shooting game to win some candy.

Squeeze in for a group photo!

The lantern ceremony was about to start, so Lauren and I headed to the crepe table to get a yummy treat

We took a seat on the lawn and watched the ceremony. Unfortunately for me it was all in Japanese, but it seemed very moving and I saw a lot of tears.
Prayer of the monks

Meanwhile, the lanterns were filling up the bay and it was beautiful to see. Unfortunately I could not get a good picture of it. But there is a sweet story to go with it- remember the fisherman who lost his wife and son? He volunteered to help the Peace Boat people launch the lanterns, and he found his wife and son's. If you think about it, that's remarkable. He cried and thanked the lord, he knew it was a sign that they were ok, and he laughed and felt renewed. He found string and tied his wife's lantern to his son's lantern, and launched them himself, knowing now they would be together for all eternity, and he could continue with his life and see them again someday.

After the ceremony we walked around a bit before heading back to camp. There were lanterns everywhere, it was beautiful

As we were leaving I saw the yakitori table was still open! I got in line and got the very last one. We may have had to walk a few miles home, but it was a delicious walk home

We arrived back at camp and went to sleep almost immediately. It had been a busy but fun day, and Monday was going to be just as fun- we were going to work our own booth at the festival!