This was a fun one, and a surprise! Dan told me to meet him in Shinagawa around 5:30ish, because we were going to a show. We trained a few stations out to Roppongi and I thought to ask, "is this in Japanese?" and he said, "there's no talking!" Now I was really stumped.
Then we happened upon the theater- Blue Man Theater that is!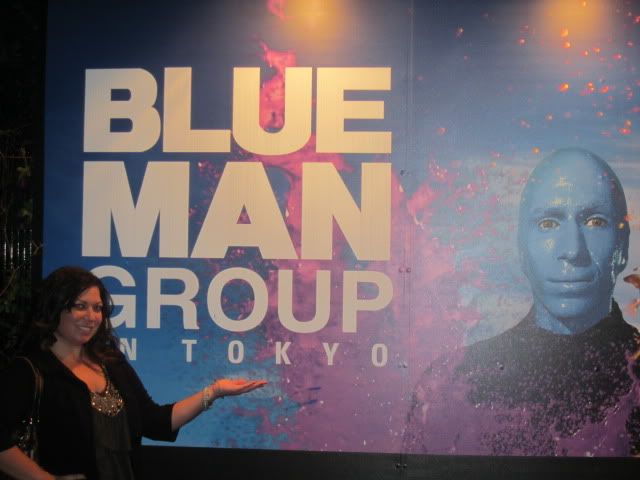 If you haven't seen Blue Man Group yet, it's such a great show. They perform in New York, Chicago, Boston, Las Vegas and Orlando, as well as tour around the States. I'm not sure how to describe the show- 3 blue men perform for about an hour and a half making music in strange ways, interacting with the audience, and doing little comedy routines, all without talking! At one point they dumped streamers on us and started throwing giant rubber balls about 5 feet in diameter around the room. It was just really fun!
As you know, I collect my programs, and even though I have a Blue Man program from seeing the show in Las Vegas, I thought it would be neat to have a Japanese one. As we were making our purchases (Danny also got some postcards) who walks by but the Blue Men! They stay in character by staring at you and not talking or smiling. It was incredible. So nice of them to come out for pictures. People swarmed them as though they were characters at a Disney park.
As one walked by us I ran along side him for a quick pic!

After that we just stayed and watched them for a bit, mesmerized by how funny they were with people. Then one grabbed Dan!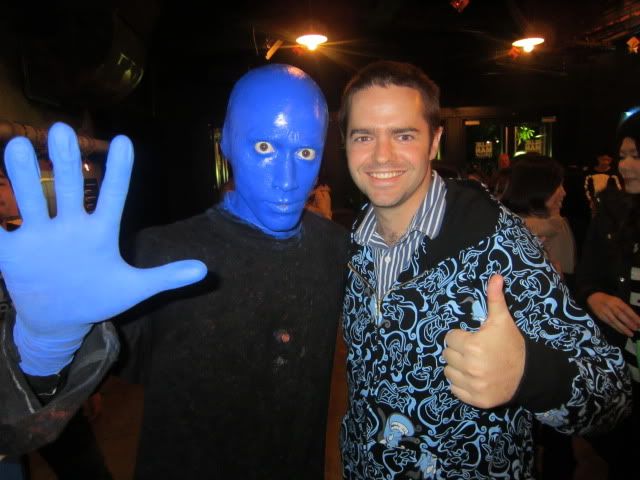 As we were leaving the band members we saying hello to people and accepting donations to Connect, which benefits tsunami victims. Dan and I donated a little money and I asked to take a picture because the band is one of my favorite parts of the show!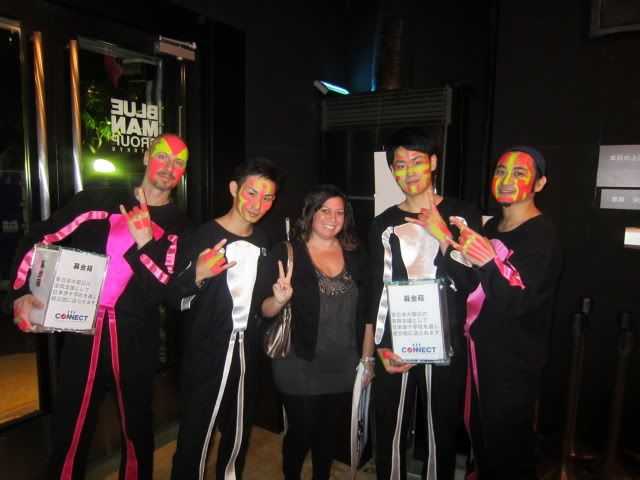 After the show we had a nice dinner at Tony Roma's before heading home. Since it was earlier in December, we weren't used to the sudden drop in temperature yet, and it felt freezing! So much fun though! I have seen the show several times now and it never gets old!